Research for the Brief History pages began in the Autumn of 2015, and they were last updated in November 2020.  If you are aware of any errors, or would like to add further details or personal memories, please email mike@newall.org.uk or david@newall.org.uk.
This page provides a summary of the company's history, and is shown in two sections below – namely 'Principal Dates' from the late 1800s to 2003, and 'Company History' covering the period prior to its move to Peterborough.
PRINCIPAL DATES
The following 'principal dates' information was obtained from the 'gracesguide' (GG) and 'Danobat' (DB) websites. Other entries in this list are pre-fixed (OE).
(GG) c.1890/1900 Company founded, as gauge manufacturers.
(DB) 1900 Company founded.
(GG) 1928 Sydney Player acquired the company and subsequently became chairman and managing director.
(GG) 1933 Started to build machine tools.
(GG) 1935 New factory established at Peterborough; company moved from Ponders End.
(DB) 1935 Moves from London to Peterborough.
(DB) 1936 Produced its first Grinding Machine.
(GG) 1936 Public company.
(DB) 1945 Produced first Crankshaft Grinder.
(OE) 1957 No.2 factory in Shrewsbury Avenue (off Oundle Road, Peterborough) opens.
(GG) 1961 Engineers, manufacturing machine tools, thread and plain grinding machines, jig boring, lapping and other machine tools used for precision and production engineering. Also manufacture optical inspection equipment, pneumatic gauging and machine tool control equipment. 1,000 employees.
(GG) 1962 Subsidiaries included:
Optical Measuring Tools of Maidenhead
Keighley Grinders (Machine Tools)
Newall Precision Foundries, of Bury
An associate company was
Stockdale Newall Machine Tools
(GG) 1964 New holding company established – Newall Machine Tool.
(DB) 1968 Receives Queens award for Technological Achievements.
(GG) 1968 Angle-approach cylindrical grinder.
(GG) 1968 Agreement with Burgmaster of USA to licence their machining technology for sales in Europe. Established a wholly-owned subsidiary Newall-Burgmaster, with premises in Croydon, to offer a full range of machining centres.
(GG) 1972 Received support for a project on a grinding machine from government programme for the machine tool industry.
(GG) 1972 In the face of unexpected losses, the company closed 2 factories in Peterborough.
(GG) 1976 Group back in profit.
(GG) 1977 Specialised in circular grinding machines. Acquired by B. Elliott and Co which wanted to expand in areas of high technology such as that at Newall.
(DB) 1977 Acquired by B. Elliott PLC.
(DB) 1979 Develops the first high speed (blade)tip grinder.
(OE) 1986 Manufacturing of a limited range of new machines (to complete current orders) moves to Keighley. Design/development centre re-locates from No2 factory to Manasty Road, Peterborough. No2 factory (the last remaining factory in Peterborough) closes.
(OE) 1988 Design/Development centre in Peterborough closes. Some staff are offered employment in Keighley. Newall Electronics and the Re-Newall companies continue to operate in Peterborough.
(OE) 20?? Newall Electronics company acquired by J M Clarke (Leicester) Ltd.
(DB) 2003 The Newall company acquired by Danobat.
---
COMPANY HISTORY BEFORE PETERBOROUGH
[[The notes below (in blue text) have been compiled from Wikipedia's  description of the early history of the Newall Engineering Company – click here to link to their web page. While we are unable to confirm the accuracy of this information, we believe that it is generally correct.]]
The original business of the Newall Engineering Company (of Atherton's Quay, Warrington), was founded about 1890. It was a pioneer in introducing gauges to the engineering trade which enabled the manufacture of interchangeable component parts by a standard limit system. In 1909 Peter Hooker Limited purchased the complete business: plant, stock, patents and goodwill of Newall. By that time, Newall were manufacturers of limit gauges, measuring machines, micrometers, surface plates etc.
During the later part of the first world war, this part of the business was taken over and operated as a National Gauge Factory by the Ministry of Munitions. In February 1919 it was reported in Flight Magazine that it had now reverted to Peter Hooker Limited.
BSA (Birmingham Small Arms Co.) acquired the business in January 1920, but then discovered that certain contracts would probably result in a loss of £250,000, and advised they did not intend to carry on the business, but would liquidate it.
In May 1926 the chairman of BSA reported to BSA shareholders that Peter Hooker Limited (in liquidation) was continuing in business at a profit under the control of the receiver appointed by the bank. As the assets far exceeded the value of the amount owed to the bank they were willing for it to continue.
Not enough business was found in the 1920s to support the retention of their 40 acre site at Walthamstow with its more than 400,000 square feet of workshops built little more than two decades earlier. Operations ended when the site's sale was completed in early 1928 and the company was voluntarily wound up by its then shareholders towards the end of the same year.
At that time, the 'Newall Gauges' part of the business was bought by Sydney Player who set up a new operation at Ponders End, Essex forming a new company with the old name, Newall Engineering Company Limited. Later, in 1933, he added machine tools to the catalogue of products and transferred operations to Peterborough early in 1935. The principal machine tool products were mechanical lapping machines and thread grinding machines used in all types of precision engineering but particularly in the making of aero and motor car engines.
---
We have been contacted by George Bain who recently acquired a wooden box containing a number of micrometers as shown in these three photos:
The large micrometer is engraved with the words "Newall Eng Co London" and the box itself has an engraved plate which reads "The Newall Engineering Co  (Proprietors: Peter Hooker Ltd) Walthamstow London, E.",  so this nicely ties in with the description above of the operations of the company from Walthamstow during the early 1900's.
---
November 2020.
Our thanks to Justin Player (grandson of Sydney Player) who has given us additional information about the company in the period 1910 – 1918:
". . . before Newall moved to Peterborough it was in Walthamstow. Sydney was employed there as Manager between 1910 and 1918. He then left Newall and moved to the USA to make his fortune, which apparently he did quite well as some years later, I believe 1928, he heard that Newall was for sale which made him move back to the UK and buy the Company.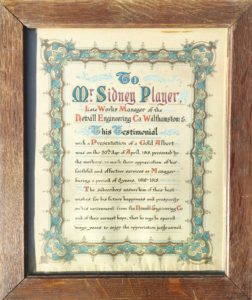 The testimonial is from when he left Newall in 1918 and I still have the Gold Albert which accompanied it. It is interesting that his name is spelled with an i in it which I believe is an error."
---
The Newall Engineering story continues on our Newall Engineering page.
---