This page of the website has been created to record photographs (or interesting documents) that have been provided to us relating to the Newall Group of companies, and have not been used on other pages of this website.  It was last updated in May 2022.
If you, the reader, have any photographs that you'd like to be added to this page, please contact us using the email address shown on our 'feedback' page.
---
THE MAIN 'PLAYERS'
At the start of this page, we provide photographs of those we consider to be the primary architects of the Newall Engineering Group's successes through the 1930s to the 1960s.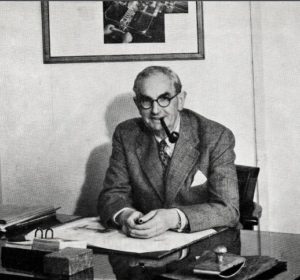 SYDNEY PLAYER
reproduced from PRECISION newsletter No1 Vol 1.
[[The layout of the three images below requires improvement. Bear with us while we work out how to do it! Perhaps we'll get some better images at the same time.]]

---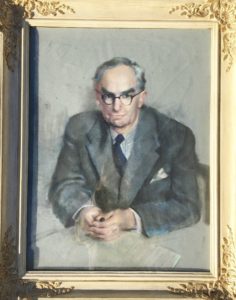 Our thanks to Justin Player who provided this photograph of a potrait of his grandfather Sydney Player. Justin said "I am unsure of how old he is in this or when it was painted but I am guessing it was done sometime in the late 50s."
We would suggest that Sydney is of a similar age to his photograph shown at the top of this page (which was published in the 'Precision Newsletter' in January 1947). If that is the case, then this portrait will have been drawn in the mid 1940s, putting Sydney's age at around 60.
---
PHOTOS and DOCUMENTS
The documents in the following section have been supplied by various individuals. Any new images will be added to the top of this section in the order received.
---
We received an interesting email from Jeff Bussey, whose father, Len, was a highly respected member of the Newall sales team.  Here is what Jeff told us:
I recently came across your Newall website.  My late father, Len Bussey, worked at Newall from about 1937, up until he had to take an early retirement, due to ilhealth, in 1980, apart from the war years when he served in the RAF as a navigator in Bomber Command. Most of his working life was at the Peterborough factories, although I also believe he spent some time at a factory in Maidenhead, during his early years with the company.
The first photo was taken, I think, whilst he was on a business trip to Germany, in the late 60`s, and the second photo shows him with a close colleague, Ron Woodcock, and a Russian engineer, again I think in the late 60`s or very early 70`s, at the factory in Peterborough.
He greatly enjoyed his working life at Newall, and in the years after his retirement, up until his death in 1990, talked fondly of the colleagues and friends he worked with, and the considerable number of overseas sales trips he made, including Russia, China, India, USA, Romania, Poland, Czechoslovakia, Hungary, Germany, Italy, France, Sweden and Japan.
---
Marianne Thamm got in touch in May 2022, having found the following open letter of reference for her father, George Thamm, when he decided to leave OMT in 1963 to seek his fortunes overseas.  The letter makes clear that George had been a highly valued member of the company during his 12 years of employment in Maidenhead.  We are left wondering where he went and whether he ever returned to the UK.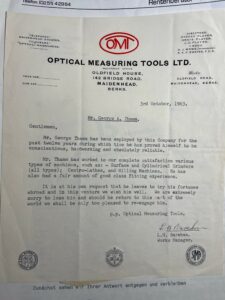 ---
Graham Hill sent us these images of a Newall Motoring Club badge, a  photo of the cover of the OMT handbook, and a Newall apprentice lapel badge (dated 1950-55).
All these items belong to his father, Brian Hill, who after his apprenticeship, was called up for National Service before returning to Newall to work as a pattern maker at the Fletton Factory.
We believe that the motoring club used to organise social events, including rallies for their members after which they'd return to a 'hostelry' for lunch or dinner. This would probably be in the 1940-60s.
Graham remembers that his dad enjoyed working at Newall's and found it a happy place to work. He also remembers a story about the prototype Deltic loco breaking down outside the works. We have no further information on that, but assume that Newall staff did not get called out to repair it!
---
Andrew Davies provided these two images taken by his father who worked for Newall in the 1960s in Australia. One image was captured from an old 'super 8' cine camera film. It shows Bob Clarke (the younger man) on a visit to Australia about that time.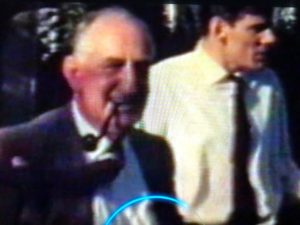 We are still trying to identify the older man who might be connected to the Stockdale Newall company, or to an Australian company called 'Player Brothers Pty. Ltd', or to . . . . (we do not know). Read more about this question on our feedback page where we report the feedback from Andrew Davies.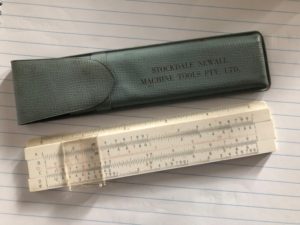 The slide rule is similar to the one shown further down this page, except that the presentation case is embossed 'Stockdale Newall Machine Tools Pty Ltd', and the slide rule itself does not bear the manufacturer's name Aristo.
---
Ian Whitehead of Rotary Precision Instruments sent us the following photo of a dial test indicator with the Newall logo and company name on the dial.  Rotary Precision Instruments were the final owners of Optical Measuring Tools (OMT), part of the Newall group of companies and Ian discovered this instrument while re-organising one of their stores in November 2019.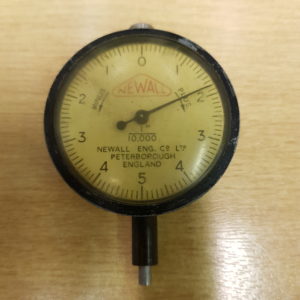 Ian was very helpful to us when we were researching the OMT company history (see here) so we are especially pleased that he has taken the trouble to provide us with a photo of this latest find.  We believe these dial indicators were made for Newall by Thomas Mercer.  Certainly, elsewhere in the OMT pages there is a clear photo of a dial indicator on a Newall Measuring Machine, which sports both the Newall and Mercer names.  A little research shows that Mercer sadly suffered a similar fate to that of Newall and the company closed down in 1984.
In March 2021, Mike Joseph sent us two more images of a Newall DTI (dial test indicator) shown below, one with the celluloid cover removed. Note that in this case, the DTI was manufactured by Arrow. We suspect that these DTIs were standard products that the individual manufacturers personalised for their customers (in this case Newall).
---
Sebastián Salvadó contacted us and his comments have been added to our feedback page. Sebastián sent this image of a "beautiful OMT OW12 optical dividing head" which he has modified for his use.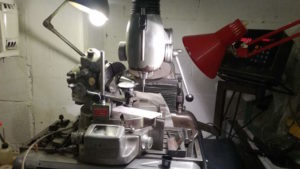 ---
We were contacted by Iris and Ted Sharman in April 2019. As a result of that contact, Iris & Ted provided us with copies of the first three regular Newall in-house magazines called PRECISION, together with one special Christmas edition (1948).  They are fascinating documents, and we have been able to extract items of interest for use elsewhere on the website.  Iris and Ted have kindly consented to us making them available here for public viewing.  Click on the images below to download the relevant complete magazines. We have managed to compress the files to around 6MB so they are not too large to download, while still retaining good legibility.
---
Our thanks go to John Seiffert (previously of Matchless Machines Limited) for a number of photographs and documents from the mid 1960s, some of which (not shown elsewhere on this website) appear below. (It was from one of John's photographs that we extracted the image of Denis Player shown above.) The following two photographs were taken by John Seiffert on a visit to Ascona (Switzerland) during the period when Newall were actively investigating providing the option of an AGIE spark eroder head for their jig borers. In the photographs below (from left to right) are Heather Seiffert (wife of John Seiffert – the photographer), Fred Ferraris (Newall's Swiss agent), Denis Player and Keith Temple (Newall's technical director).
Further details about the Spark Erosion Machine Project can be found on the Newall Engineering Products Page 3
---
John Riddington (designer of the Large Abrasive Belt Grinder and involved in the design and development of many other Newall machines) recently sent us a photo of a forklift truck driver and his mate, plus a group of photos taken at the Newall Sales Conference Dinner in 1961, held at the Angel Hotel (long since gone) in Peterborough. Here is the forklift photo:
One of his photos of the dinner was already included on this page (further below) so we have not duplicated it in this collection.  We're hoping someone will write in and help put some names to faces in the other images (click on any of the images to enlarge):
We can even show you what was on the menu that night:
---
The following photo recently came to our attention and shows Newall's No.1 factory in 1934, the year before it came into their ownership.  At the time, it belonged to Harry F. Atkins.  It has now been added to our Newall Engineering Factories page where you can find some additional comments, as well as a modern view of the same site.
---
These two photographs were sent to us by Ludovico Mosca in Sorrento, Italy. He states that he "found these in my archive (they are part of a lot of negative films I purchased on eBay some years ago and which I'm still gradually scanning), I suppose the photos were shot in the sixties (probably 1967 or 1968) in England, maybe they could be useful for your web site."
Reference the photo on the left, we had not previously heard of a 'Newall Mechanical Handling Division', or 'Payload'. Is the latter a  marketing brand of Newall? Perhaps someone out there can send us some feedback on that.
In January 2019 we were delighted to receive a message from Brian Murphy, who confirms that the gentleman seated in the right-hand photo is his father, Eddie Murphy (who will be 99 in March and still going strong).  Eddie was Sales Manager at Keighley Grinders and later became Managing Director of Newtool in Fakenham.  We believe the photo is from around the time of the International Machine Tool Exhibition in 1964 at Olympia.  Eddie has confirmed that the photo was taken in his office at Keighley Grinders, although he cannot remember who the other gentleman is.  Take a look at our Memories page for some further reminiscences from Eddie Murphy.
---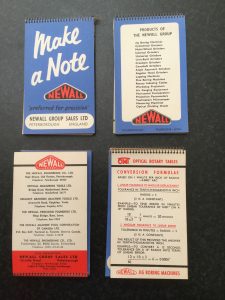 Our thanks to Chris Bennett who worked in Newall Group Sales (1964 – 69) for this image (click image to enlarge) of a note pad which was produced for distribution at machine tool exhibitions. Coming up to 50 years old, there cannot be many of these left now!
---
The following typed lecture notes have been discovered.  There are notes for two different lectures, each no doubt targeted at an audience of professional engineers.  They were written and presented by Joe Hobbs, probably in the late 1950's.
The first lecture outlines the history of measurement standards and goes on to discuss comprehensively the various methods available at that time of linear and rotary measurement, as well as checking surface finish.  Even if the subject doesn't particularly appeal, you may still find it interesting to see how attitudes and behaviour have changed since that time.  For example, he clearly expected his audience to be exclusively male, as witnessed by his introductory remarks: "Mr Chairman and gentlemen".  The rather formal language, and politeness of remarks to the audience also seem somewhat strange to the modern ear.  The original typed notes (including errors and a possible missing, un-numbered page) are reproduced in their entirety in a pdf file but you can get a flavour of the contents by viewing the first couple of pages in the images below (click to enlarge).
The second lecture is entitled "INSPECTION AS AN AID TO PRODUCTION" and it also is available as a facsimile of the original typed notes, in a pdf file.  Again, you can get a feel for the content by viewing the first couple of pages below.
---
This little object was snapped up by the author in an eBay auction in 2017.  It is a 4-sided glass prism with the Newall Aerospace logo printed on the base and visible at various angles when viewed through the different faces.  It is about 40mm square and 40mm high and comes in its own presentation box and was presumably a sales promotional give-away, perhaps at an exhibition.
The previous item was obviously produced during the later years of the company, when it was briefly known as Newall-Aerospace, but here is another sales give-away, this time from a much earlier era (early 1960's).  In the days before smart-phones, personal computers and pocket calculators, other ways were used to perform rapid multiplication and division of large numbers, and various other mathematical conversions.  When the young engineers of the 1950's and 1960's were at school, these tasks were accomplished by the laborious use of logarithmic tables, which enabled multiplication and division to be  performed by the addition and subtraction of logarithmic equivalents.  [[How many of us could still manage to use those?]]  But when these young students got to Technical College or University they were able to abandon those log tables for many such tasks, and were introduced instead to the wonders of the slide rule, which made such calculations possible in just a few seconds, albeit with restricted accuracy.
This is a high-quality compact slide rule (model Nr. 89) complete with presentation leather case, manufactured for Newall by the German company Aristo, who were one of the leading producers of slide rules.  The manufacturer's code G6129 is stamped on the underside of the main body.  You might like to visit the Aristo Slide Rule Museum website for a fascinating insight into these devices.
---
The photo below shows a special test rig manufactured by OMT for an unknown overseas customer [[the plate on the side suggests Russian?]].  We have no details of what the rig was used for.  It appears to have two axes of movement but with a single axis of digital readout.  Could it perhaps be measuring the roundness of the solid disk on the shaft at the bottom?
---
The following photo is of a Newall Sales Conference dinner in 1961.  They all seem to be having a nice time!  We can identify Cyril Stocks (bottom right corner), Jack Hann (OMT) at the left-hand head of table with Stan Hoare to his left, and second from the right on this side of the table is Joe Hobbs. [[September 2020. Click on image to view a larger version, together with the names of those we have identified (so far). Note. Once the larger version has been selected, a single 'clink' on that will give a full size image.]]
Here is another photo featuring Joe Hobbs (second from right), this time representing Newall Engineering in 1959 on one of his many visits to Russia around that time.  He was working at a Machine Tool Exhibition in Moscow, when he was asked to make himself available to attend a small private dinner party that evening.  He was intrigued to find himself one of a party of a dozen businessmen from the UK at a dinner hosted by Nikita Krushchev, shown seated at the head of the table.  I don't know if there was any food to go with all that drink!  Following further sales visits, an order was negotiated for over 20 Spacematic jig borers, which would have been Newall's largest-ever single order.  But the British government decided the associated control system technology was too sensitive to be handed to the Russians, an embargo was put on the sale of those machines and the order was never fulfilled: many months of careful and patient effort (and many glasses of vodka), all for nought.
---
The next two photographs were supplied by Garry Breeze, whose mother, Joy (Ann) Breeze, worked in the drawing office in the mid 1960s. We understand that the photographs were taken at an office Christmas party. We recognise some of the individuals in the photo on the left, but are not sure about the photo on the right. If anyone can provide further information on these photos (where/when taken, and the people shown), we'll update this page.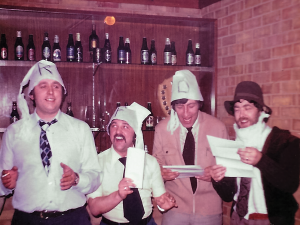 [[Update from Ray Morris: photo on left, from left, Ray Hill, Fred Addy, Dick West & Brian Andrews. We still do not know the occasion.]]
[[See also comment below from Susan Cartledge – the occasion was indeed a Christmas party, in late 1978, or 79.]]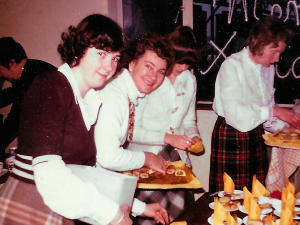 [[We had been considering removing the photo on the right, because our enquiries had been unable to identify anyone on the picture, and we were beginning to think it was not relevant to the Newall Group. Then, just as we were about to make that decision, we had an email from a Susan Cartledge, the contents of which follows:]]
"Rather a shock but that's me at the front of this picture (was Susan Barrow) – worked in the drawing office with Neil Judge.  Next to me is Lyn Waller, and not sure if that is Sue Bell (was Smith) the other side of Lyn.  The occasion for this and Ray's singing group would have been Christmas and I would think it is either 1978 or 1979.  I did become the subject of one of Ray's Christmas song verses which was aired at the rowing club before it was demolished to make way for the parkway but that was later than the above picture.
I will have to hunt them out but have a number of images from late 70's and early 80's taken by me or my Mum (Paddy Barrow) who worked in purchasing.
Hope the above is a little helpful and I will try to sort out further images."
[[We look forward to receiving those 'further images' from Susan. Watch this space!]]
---
Two interesting documents follow. We presume from these documents, the the company used to produce a 'newsletter' called "precision". Hopefully, someone can confirm this, and can perhaps provide copies of other issues if they exist.
On the left, page 24 prints a letter to the editor of 'Precision' from G. E. Scotting, and features a profile of Harry Richardson; while page 25 features a report from MTE referring to a works outing, and offers a few 'Doubtful Definitions' by S Midgley. On the right, page 30, under Harry Richardson, refers to  'Precision No2', and page 31 provides a tour of the works in rhyme.
 
---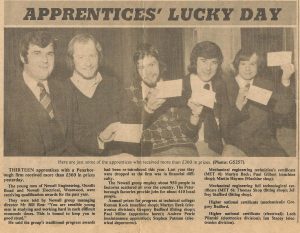 This report in the local newspaper relates to the Company's reward scheme for apprentices succeeding in their training and/or college course. Click on the image to see an enlarged (readable) image.
On the left, we can identify Lech Pilarski, and on the right Ian Stacey. We are advised (in 2021) by Brian Strickson that Greg Bedford is in the middle, and it is Jeff Stafford between Greg and Ian Stacey.
---
Newall's standard for 'Limits and Fits' is shown in the images below. Click on an image to enlarge.
---
Photo below supplied by Nick Lynch showing Keighley Grinders drawing office staff in the early 1980s. It features (L to R):
Peter Bullough, Harvi Chana, Jim Mortimer, Ray Shackleton, ?, Malcolm Horsfall, Pat (surname forgotten), Chris Ross, Geoff Perigo, ?, Nick Wynch
---
Two images below supplied by Tom Skop. The first was taken on the steps outside the reception entrance at the No2 factory in Shrewsbury Avenue. Date believed to be mid 1960s.
It features, left to right: Alan Pitam; Dennis Lunn; Stan Roberts; Ron Woodcock; Ron? Unwin; Jenny Bennett (reception); A Russian Representative; Len Bussey; Kathy Skop (was Friedman); June Shewan (partly hidden); June Lincoln; Richard Spinks; John(?) Polhill.
The second image on the left was also taken at the No2 factory. Third from the right, is Malcolm Watson. At present, we have no further information on this group, or the occasion of this photograph.
2021 Update. Brian Strickson contacted us. He believes most of those in overalls at the front of the group are members of the "Slinger gang and crane drivers". One of his fellow apprentices, Francis Lyon, is the fourth face (fifth person) from the left.
---
These four images (a photo and 3 press cuttings) were supplied by Sheila Hollis. The first shows Sheila and Harry Smith with the Newall camera on display at an Olympia (machine tool) exhibition; the second at same exhibition with Vernon Wheeler; and then two featured in a local newspaper following the presentation of clocks to staff who had completed 25 years service with the company.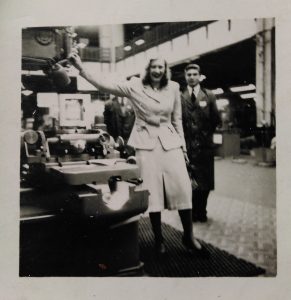 ---
This photograph was supplied via a neighbour, and was entitled 'Ginger McCombe send-off'. We presume that it marks Mr McCombe's retirement, and that 'Ginger' McCombe is the one at the centre-front with his wife (we also presume) holding his arm. Unfortunately, we cannot name any of the people in the group. We also believe that the photo was taken at the Fletton Avenue factory (based on the brick kiln chimneys in the background) in the 1960s. CORRECTION: Read on.
Brian Strickson has identified that of the two individuals wearing white coats, Mr H C Antony (known as Tony) is the one on the right.
Within a day of getting this information from Brian Strickson, we were contacted by Don Cook who had created an annotated version of this picture, and provides more accurate information (and much more interesting!) about the occasion. Don's annotated image can be seen on the right – click to enlarge. Note that the lady holding 'Ginger's' arm, is not his wife. Her name was Connie Gray, and she worked in the 'Overall Stores' at this factory. The group picture is a fine example of the friendships (bonhomie) that existed between all levels of employee at the company.
---